Getting Around
LibrePlanet 2014 will be held at the Massachusetts Institute of Technology's Stata Center, at 32 Vassar St, Cambridge, MA 02139.
Where to stay
Prices range from $ (inexpensive) to $$$ (expensive).
Hostels
These are about five kilometers from the conference venue, but have prices of $50 or less per night.
Other hostels a little farther out can be found at HostelWorld.
Hotels
Arriving in the City
From Logan Airport
Most people travel via these three routes from the airport:
Cab. Cabs are located all over the city: at the airport and major subway stations.
Blue Line The MBTA website provides a very helpful page on how to navigate via the Silver Line and Blue Line from the airport.
Commuting from the Suburbs
Commute to North Station for cities north of the city. Take the Green Line to Park Street to reach the office, or to transfer to the North Red Line to connect to MIT.
Commute to South Station for cities south of the city. The station is situated on the Red Line. You can take the North Red Line to the FSF office and get off at Park Street or Downtown Crossing. You can reach MIT by continuing north and disembarking at Kendall/MIT Station.
If you still need help with travelling, contact Chrissie at sales@fsf.org.
Getting to LibrePlanet and Navigating the Boston/Cambridge Area
Public Transportation
The easiest way to get around Boston/Cambridge is to use the MBTA. Passes can be purchased with credit and debit cards in stations and single rides can be purchased on board with cash. The links below can help you to plan your trip to MIT's Stata Center and around town. MIT is located at the Kendall/MIT stop on the red line. The FSF's offices are located near the Downtown Crossing and Park Street T stops.
Getting to LibrePlanet at the Stata Center, Massachusetts Institute of Technology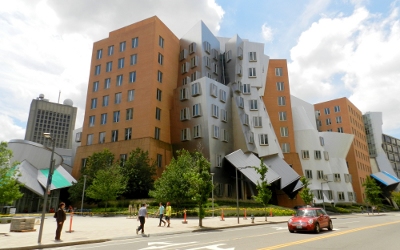 The Stata Center. Image CC-BY-3.0 Pablo Valerio
Address: 32 Vassar St, Cambridge, MA 02139
Closest subway stop: Red line: Kendall/MIT Station
Directions: When you leave the station, turn west on Main Street (toward Ames street), turn left on Vassar Street, and then turn left. The Stata Center was famously designed by Frank Gehry; its unique look makes it easy to spot.
Getting to the Free Software Foundation office
The door is unlocked during the day, so you can just come right on inside to the 5th floor. If the door happens to be locked, the intercom outside will connect you to a phone in the office to be let up.
Getting to the Saturday party at Asgard
Address: 350 Massachusetts Avenue, Cambridge, MA 02139
To get to Asgard from the Stata Center, walk west on Vassar and take a right (north) on Massachusetts Ave. for approximately 1/2 mile.
Parking
Around Kendall/MIT
Downtown/Near FSF office
Finding street parking is more difficult
Boston Common Garage: $12-24. Best deal downtown! Only a few blocks from the office.
Around Harvard Square
Metered street parking along JFK Street, Massachusetts Avenue, and Mt. Auburn Street
University Place Garage: $13 evenings/$9 with local business voucher
Where to Eat
Kendall Square
Central Square
Harvard Square
Grendel's Den is a favorite restaurant & bar among the local Free Software community. Join us Sunday night at 9pm to partake in their half-priced menu. Vegan/Vegetarian options.
Veggie Planet is a Vegan/Vegetarian pizza place with live folk music. Vegan/Vegetarian.
Downtown
Chau Chow City can accommodate large groups. Their Chinese food proportions are substantial, and their cocktails are fun (some are literally on fire!) Vegetarian options.
Sam Lagrassa's is famous for its sandwiches. Vegetarian options.